Best Online Craps Casinos Australia
Find the top Aussie casinos sites to play Online Craps today. Craps is a popular casino table game that has been gaining popularity in recent years. Players roll a pair of Dice and bet on the outcome of the roll. Online Craps isn't quite as popular as other table games just yet, as the game looks quite complicated. This sometimes deters new players, but with our guide, we hope to show you that it is not as scary as it looks.
We'll take our readers through a basic guide to Online Craps, including how to play, strategies, and important terms. We'll also help readers find the Best Craps Casinos in Australia. So, what are you waiting for? Let's jump right in!
Top Australian Craps Casinos Online
Basic Rules of Online Craps
We will begin by taking you through the basics of Craps. Once you understand the basics, we're sure you will see that the casino game is not as complicated or scary as it might first seem. The Craps table looks extremely complex, and this is part of what can scare new players away.
However, the Craps table isn't nearly as bad as it looks. The two sides of the table are actually duplicates, allowing more people to play. So, keep in mind, you only need to pay attention to half the Craps table when playing.
The next thing you need to understand is the two main phases of the game. It starts with the Come Out Roll Phase. Players begin by making a Pass Line or Don't Pass Line Bet. The shooter then rolls the dice, and if it lands on a 7 or 11, players who placed a Pass Line bet will win. If it lands on a 2, 3, or 12, then Don't Pass Line Bets win.
If the dice land on any other number, the game moves onto the second phase. This is called the Point Phase. The number that was landed on becomes known as the point number. The goal of this phase is to roll the Point Number before a 7 is rolled. If this happens, Pass Line Bets win, but if a 7 is rolled before the Point Number, Don't Pass Line bets win.
That is basically all you need to know in order to play Craps. There are other bets that can be made, but once you understand and are comfortable with the basics, you can start exploring the other options.
Best Online Craps Strategies and Tips
Online Craps is a game of luck, but Australian players are always looking for strategies and tips that can help put the odds in your favour. So, are there any betting strategies that can help you win more often in Craps? Unfortunately, the truth is that because this game is determined by luck, a player cannot do anything to improve their chances of winning.
Once you make your bet and roll the dice, it's all up to lady luck. You can use some betting strategies to help improve your experience and make the most of your bankroll, but no strategy will improve your odds of winning.  However, we can give you some helpful Craps tips and tricks to ensure you have the best possible experience
Set a Budget – As with any gambling game, it is always important to set yourself a budget. Always decide how much money you are prepared to lose, in case things don't go your way. When you get to the end of your budget, walk away! Never ever chase your losses in an attempt to win lost money back.
Budget your Time – It is also important to budget your time. It can be very easy to lose track of time and spend hours playing Online Craps. This can affect your personal life, so set a time limit as well. Decide if you're going to gamble for 30 minutes or an hour and stop when you reach your time limit.
Set a Win Limit – We also recommend setting a win limit. This might sound counterintuitive; why would you stop playing when you're winning? The problem is that all winning streaks come to an end. If you have won a AU$100 and your streak ends, and you keep playing, you risk losing all your winnings.
Have Fun and Experiment – Always remember to enjoy yourself and have fun experimenting with other bets. Stick to the basic bets as you learn to play Craps, but once you get comfortable, experiment with other betting options.
Stay Sober – Lastly, always stay sober and keep a clear head. If you are not staying sober, you could potentially make poor betting choices and lose money.
Best Craps Bets and Worst
If you want to stand the best chance of winning, then we recommend following some suggestions about what bets to place, and which to avoid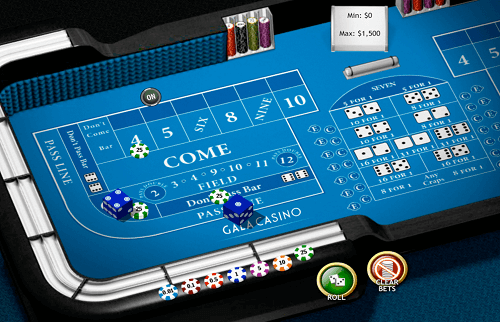 Best Craps Bets
If you want to win as much as possible, you need to place the bets with the best odds of winning. These are the Pass/Don't Pass and Come/Don't Come bets. These bets have a house edge of just 1.4%. By focusing on these bets, you give yourself the best chance to win.
Craps Bets to Avoid
There are several bets that offer great payouts, but the odds of winning are small. These are some of the bests we recommend avoiding. The Hard Way 4 and Hard Way 10 bets have a house edge of 11%, making them quite difficult to win. The bet with the worst odds is Any Seven, with a house edge of 16.8%. It pays our 5/1, but the odds of winning are slim.
Craps Glossary
Any Seven – Betting that the Next Roll Will be a 7
Any Craps – Betting the next Roll will be a 2, 3, or 12
Back Line – A Slang Term for the Don't Pass Line Bet
Bankroll – The amount of money a player has to gamble with
Big 6 – Betting that a 6 will be rolled before a 7
Big 8 – Betting an 8 will be rolled before a 7
Bones – Slang term used to refer to the Dice
Box Cars – Betting the next roll will be a 12
Cold Table – A table where players are not winning often
Come Out Roll – The first roll of the dice in Craps
Don't Come Bet – Players will win if a 2, 3, or 12 is rolled on the first roll and lose if a 7 or 11 is rolled.
Hardways – Betting that the next roll will show identical number on both Dice, totalling 4, 6, 8, or 10
Hot Table – A Table where players are often winning.
House Edge – The advantage the casino has in any bet
Natural – When a roll lands on 7 or 11
Multi-Roll Bet – A bet that could take several rolls to determine a win or loss
Single Roll bets – A bet that is decided with the next roll of the Dice
Point – When a 2, 3, 7, 11, or 12 is not rolled during the Come Out Phase, this number becomes the Point Number
Roll Craps – When a 2, 3, or 12 is Rolled during the Come Out Phase
Shooter – The player Rolling the Dice
Top Online Craps FAQs